Sak Yant – Thai Sacred Geometry (Yant/Yantra) tattooed in the skin. Sak Yant is an Ancient magical practice of Sacred Geometry, using Buddhist, Brahman and Animist imagery and magical incantations (Kata), written in Khom (Ancient script used to write Pali Sanskrit).

Sak Yant Temple Tattoos, are made by Buddhist Monks, Brahman Masters and Ruesi ascetics. A place where Sak Yant is made is called a Samnak Sak Yant (if a temple or a very large establishment), or "Dtamnak" (if a smaller establishment with one Master). Sak-Yant dot com presents a compendium of knowledge, info and galleries about Sak Yant Thai Buddhist/Animist temple tattoos, Saiyasart (Thai Occultism) Buddha Magic, Kata (mantras), and Sacred magic amulets.
Above; Sak Yant Tattoos by Ajarn Dech
Above – Sak Yant Tattoos by Laymaster Ajarn Kob (Ayuttaya)
Above; Wai Kroo pics (Master Day) from Samnak Ajarn Ord (Kalasin)
Please click on each image to read the commentaries or comments i have added to each picture, which lets his gallery serve as sub pages which can be added to as i wish to or have more infos, and function as pages in themselves. This is the only gallery i shall constantly add text info to as i develop it, as this is now the main landing page of sak-yant.com, and thus will be worth extending for people to revisit. It will also prevent the main homepage from going moldy. So please view all the images and see how i have started something on each page to begin with, and will add more info to each image as i go along. For example i will try to insert the addresses of any Ajarn pictured etc.

Please surf the site using the pages tabs on the top of the page or the pages links on the side navigation, to research and read our massive collection of info and picture galleries on the topic of Sak Yant. Sak Yant is just one single medium for the application of Thai sacred Geometry, which is also applied to metal plate and scrolls (Tagrud) and cloth and clothing (Pha Yant and Suea Yant), as well as invisible inscription, upon peoples heads using magical instruments.
There is a large number of pages and blog articles as well as image galleries for you to gather info about Sak yant Buddhist tattoos and Buddha Magic (my term for all forms of Thai Mystical, Spiritual or Occult practice, be it Buddhist, Animist, or Brahman). To increase your knowledge i may suggest purchasing one or some of my E-Publications on Sak Yant, Sacred Amulets, and Buddha Magic in Thailand – all of my publications go through the thailand-amulets.net store secure https server a service offered by amazon.com's ecwid project, which is accepted by and trusted with all major credit card companies. Instamnt download after payment completion is given through account login page, which you can see after signing up using the below store, or going to thailand-amulets.net. Both stores are the same store, so it does not matter which one you use to sign up with
---
---
Authors Notes;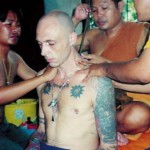 The Story of Sak Yant as far as my Journey was concerned, began at what is perhaps nowadays and also back then the 'Mecca' of Sak Yant;
Wat Bang Pra Temple >>>>
After this, i was led to years of self study and conference with various Masters of the Magical Arts and Sak Yant Masters, as well as having regular bouts of disappearance to the forest to hang out in temples and learn what Buddhism and the Dhamma practice was really about, which led to be the most frustrating, difficult, and rewarding experience of my whole life.
This resulted in me becoming completely dedicated to the single goal of finding a way for people of all religions and philosophies to find the way to see the Dhamma and awaken, as did the Buddha. My secondary goal whilst waiting to die, is to collect and preserve as much information about the various Wicha and Magical arts in Thailand as i can for those who do not speak Thai to be able to begin and continue further research in this most fascinating subject and indeed way of life that is so full of Magic.
Sak Yant Thai Buddhist (and Animist/Brahman) tattoos are one of the many facets of Buddha Magic, but only one. There are many mediums for the application of Magical or Miraculous energy,be it tattoos or other surfaces with sacred geometry, or anciient spells in forgotten languages, amulets and charms.. the list is almost endless of the variety of magical pracitces, spells and paraphernalia which are in current everyday common use in Thailand, when those in the Western World live in an Environment almost Devoid of the true presence of Magic, or the belief in it. Whereas here, Magic is alive and in your face every day, and you can feel it. I think the only other places i felt the same magic was in India and Nepal, exept in Nepal and India, i felt the magic in the air around me, whereas in Thailand you don't notice it like that, you notice it when you find out it is real and begin to have faith, and then is when you find out from within. Knowing from within is always superior to knowing from without, for it is knowledge one has acquired through ones own insights. Knowledge obtained from without can never be a true and trustworthy article of faith, for one is dependent on the word of others, which is tantamount to Blind faith.
The Buddha warned us against blind Faith, and said we should never believe anything even if said in an ancient book or by some great master. But if it makes sense and is true, then it should be believed, only then.
If Magic does not seem logical, you are right, it is not, no.
If you have never practiced Meditation and reached the Formless states of mind, then this aspect of how magic works will not appear clear or probable. This does not mean do not believe. It means you must try to find the ability to sense and perceive the magical forces, and if possible to attain that state, then you will know for yourself if it is real or not, and only then